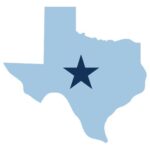 The Texas Democratic Party is seeking a dynamic and innovative Digital Strategist to join our team in Austin, Texas. Applicants should be not only proficient in content creation and digital marketing, but also passionate about leveraging emerging technologies to revolutionize our digital efforts. If you are committed to electing Democrats up and down the ballot in Texas and are excited about using forward-thinking solutions to make a difference, this role is for you.
This position will report to the Digital Director and will be an in-office/hybrid position based in Austin, Texas.
What You'll Do:
Content Creation & Marketing

Create visually engaging content for various digital platforms using Adobe Creative Suite and Canva.
Develop, draft, and edit compelling fundraising emails and social media posts.
Produce and edit TikTok videos to engage younger demographics and broaden our reach.

Strategy & Analytics

Collaborate with the finance, coordinated campaign, and communications departments to set and achieve online goals.
Conduct A/B testing and utilize analytics tools to optimize campaign performance.
Monitor social media and news outlets for real-time messaging opportunities and rapid response.

Tech Innovation

Provide key backup for the Texas Democrats website, ensuring it is up-to-date and delivers engaging user experiences.
Explore and implement data-driven strategies to augment content creation, supporter engagement, and data analysis.
Stay abreast of emerging technologies and platforms that can be leveraged for campaign success.

Team Collaboration & Support

Attend and actively participate in content planning and strategy meetings.
Provide cross-departmental support to uplift communications and messaging.
Work under deadline pressure and be willing to put in long hours as campaign needs dictate.
Other duties as assigned.
Qualifications
At least one cycle of experience in digital marketing, content creation, or a related field.
Proficiency in Adobe Creative Suite and Canva.
Experience in creating and editing TikTok videos.
Strong verbal and written communication skills.
Experience with SMS texting software & campaigns is a plus.
A strong interest in utilizing emerging technologies to enhance digital campaign efforts.
Preferred Skills
A thorough understanding of the political campaign landscape in Texas.
A basic familiarity with HTML/CSS.
Excellent planning, execution, and follow-up skills.
Ability to manage multiple projects concurrently.
A willingness to work long hours as campaign needs dictate.
Salary and Benefits:
$4,500/mo. The Texas Democratic Party offers medical, vision, and dental insurance. Employee's insurance premiums are paid fully by TDP. This is a full-time, cycle-only position through November 2024.
Employee Classification:
This is an Austin, Texas-based full-time position and will require working some nights and weekends.
Start Date:
As soon as possible.
How to apply:
Please click here to submit a resume and cover letter.
Location:
This is an in-person/hybrid position based in Austin, TX. This role will require occasional statewide travel.
Diversity:
The Texas Democratic Party is an equal-opportunity employer. Consistent with the Texas Democratic Party's commitment to including groups historically underrepresented in the Texas Democratic Party's affairs, by virtue of race/ethnicity, age, sexual orientation, gender identity, or disability, we strongly encourage members of underrepresented groups to seek jobs within the Texas Democratic Party.